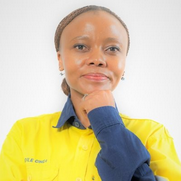 Senior Manager: Strategy & Business Development Gold Fields
Gold Fields has nine operating mines in Australia, Peru, South Africa and West Africa (including the Asanko JV) and one project in Chile, employing over 22 000 people with mineral resources of 111Moz and reserves of 48Moz.

Zandile Cindi heads South Deep's strategy and business development and is a registered professional mining engineer, certified to manage metalliferous mines. Her career started off as a night shift cleaner (miner), progressed to mid-tier production, planning and corporate mining roles. She later advanced into technical and management consulting and gained a distinguished proficiency in strategy, value chain optimization and digital transformation.

Her professional and people skills were honed over a 16-year period, allowing her to gain exemplary people skills and solid core business skills. As a result, she have grown into a valuable team player and natural leader. Zandile holds a BSc (Hons) Mining Engineering degree and a Post-Graduate Diploma in Advanced Business Project Management. Her commodity exposure includes iron, platinum, mineral sands, copper, cobalt, gold and coal.

Her current focus is on the technologies enabling the efficiencies of the value chain processes and ensuring South Deep is ready for the implementation of these technologies. She plays a key role in the alignment of processes, technologies and people and ensuring preparedness for the changes the digital environment will invariably introduce at South Deep.

Zandile also serves as an assessor and moderator for ECSA and is affiliated with AMMSA and SAIMM.