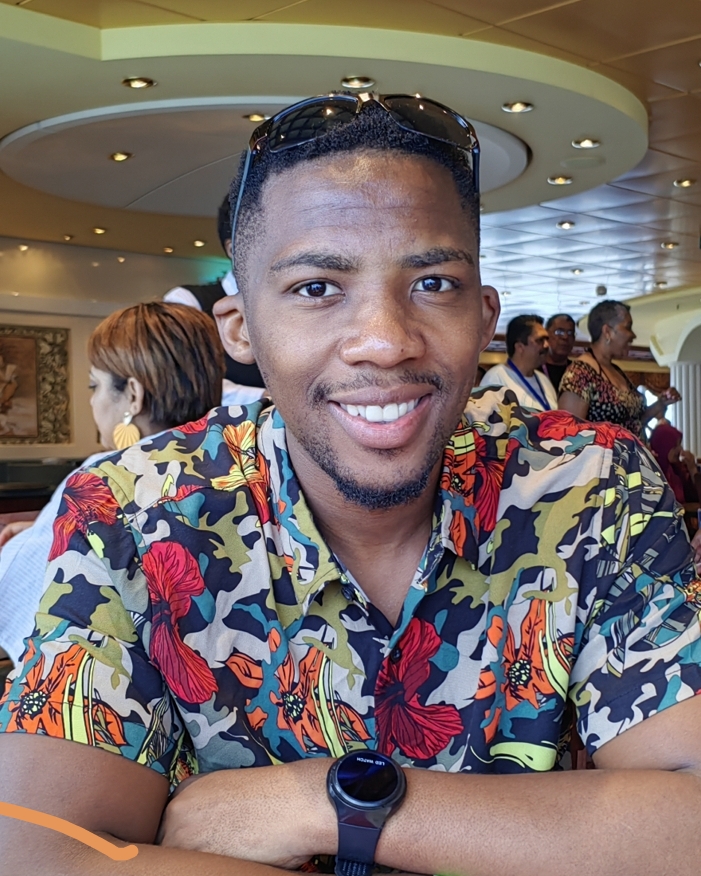 Lwazi Duma Entertainment, a South African filmmaker with a true passion for storytelling, has made his mark in the vibrant world of filmmaking. From his early days as a songwriter, Lwazi transitioned seamlessly into the realm of visual narratives, embarking on a journey that has spanned over a decade.
His exceptional talent and dedication have earned him numerous awards and recognition for his thought-provoking short films and documentaries. As a facilitator for the Writer's Guild of South Africa and an instructor at the Garden Route Film Festival, Lwazi has shared his expertise and inspired aspiring filmmakers.
One of his remarkable achievements includes producing the compelling documentary "Lesotho: The Weeping Motherland," which shed light on the impact of climate change on agriculture. The documentary garnered prestigious awards, including the Climate Change Awareness Award at the Africa Human Rights Film Festival and the Best Documentary at the Umgungundlovu Film Festival.
Participating in NEFTI Africa holds great significance for Lwazi as it provides a platform to showcase his skills, compete with fellow talented filmmakers, and establish himself as a standout filmmaker of his generation. He recognizes the high calibre of NEFTI and believes that it will elevate his career and expand his professional portfolio.
Lwazi's submission project, "Forbidden Tastes," delves into the world of apartheid-era South Africa, exploring forbidden love and the limitations imposed on individual choices. The film offers a powerful commentary on how people navigate and overcome oppressive structures.
With a simple yet impactful filmmaking style, Lwazi incorporates high-concept storytelling infused with an authentic African and South African essence. He meticulously crafts internal story arcs, delving into the characters' journeys and immersing audiences in captivating narratives.
As Lwazi embarks on his NEFTI Africa journey, he envisions not only personal success but also the empowerment of emerging filmmakers across Africa. He believes that this competition can be a steppingstone for African filmmakers to become globally competitive and leave a lasting impact on the industry.
Lwazi Duma's exceptional talent, storytelling prowess, and resilience make him an outstanding addition to the NEFTI top 10 cohort. Stay tuned for his future projects as he continues to push boundaries and inspire through his thought-provoking storytelling.
Work history:
LESOTHO THE WEEPING MOTHERLAND (FUNDED BY THE NATIONAL FILM AND VIDEO FOUNDATION)
1. Africa Human Rights Film Festival Winner – Best Climate Change Awareness Award 2022
2. Umgungundlovu Film Festival – Best Documentary 2022
INTERNATIONAL RECONCILIATION
1. Selected At the London Production Finance Market 2022 – Secured a Distribution Deal with Universal Pictures
2. Selected at Suncine International Film Festival 2022 in Barcelona Spain.
Lwazi has just recently started working on a documentary about the history of Ghandi in iNanda and came across a woman who was shot during the 2021 uprising in Phoenix Durban. This lady is now living with a disability and has been struggling to get a doctor's letter so she can apply for a disability grant. Lwazi has helped this lady and her family get private medical attention driving them up and down every week so they can complete checkups and receive a doctor's letter to apply at Sassa.
Lwazi grew up in the dusty village of Umgangeni where he fell in love with filmmaking. Today he has presented his project to a panel of Hollywood Producers including Vivica A. Fox, Bruce Cohan and Ted Gagliano (President of twenth Century Fox) who has chosen him at the top three finalists in Africa and awarded £3000. Lwazi's Film will be showcased at the Durban Filmmart in July 2023 at the biggest film market in the continent.