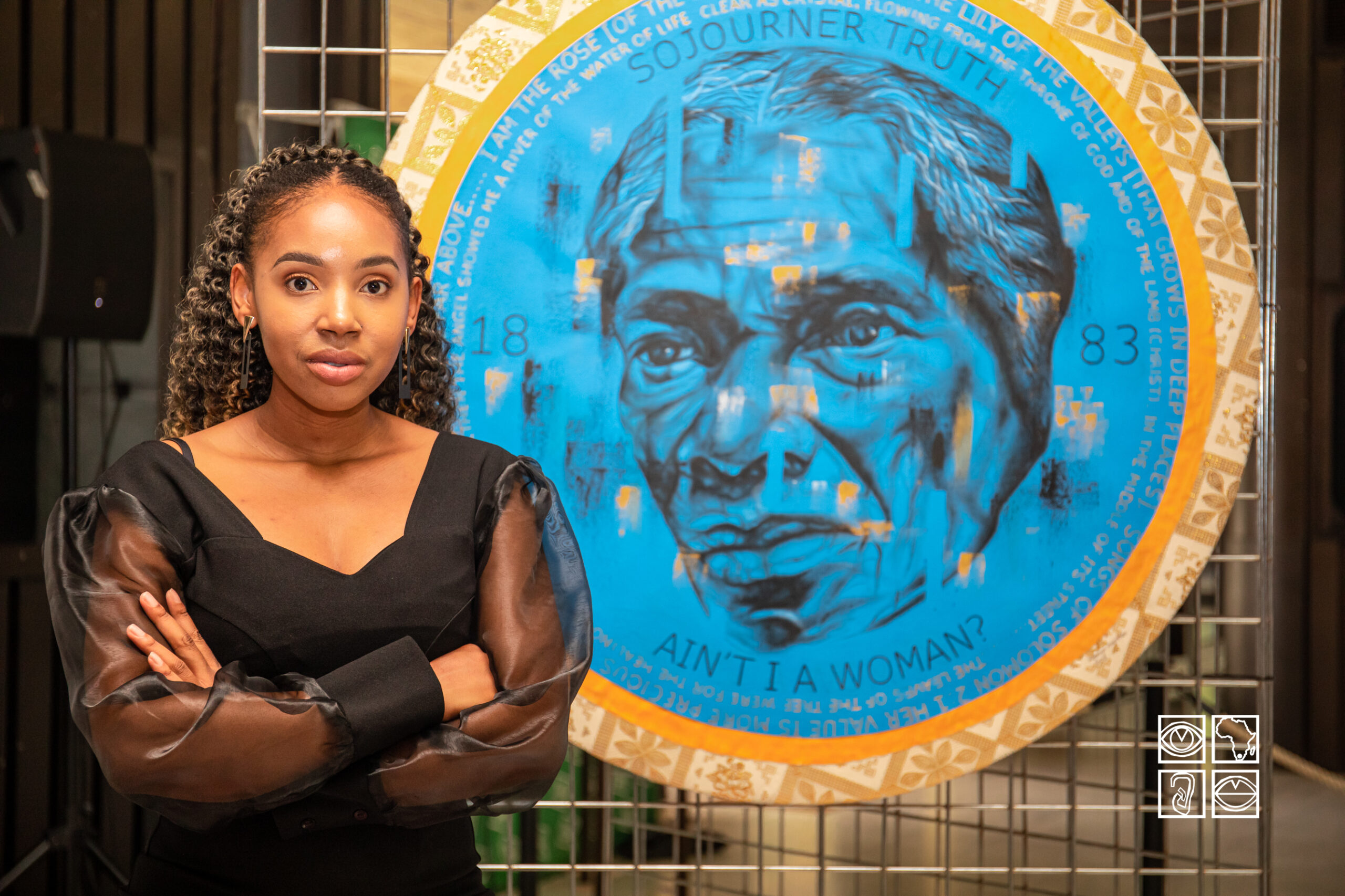 Kganya Mogashoa (b 1994) founded Koranges Art (pty) Ltd. She is currently working and based in South Africa, City of Johannesburg. Her studio is based at Ellis House Art Building in Johannesburg. She enrolled at the University of Johannesburg to study Interior Design (2013 – 2016). She obtained her Btech Honours Degree and eventually quit her full-time job to pursue her passion for Visual Art in December 2019. She is a self-taught multidisciplinary artist who creates mixed-medium paintings (Oil and acrylic). She focuses mainly on portraiture and human figures. Her artwork is inspired by the paradigm shift of how society responds to the roles and needs expressed by women. She desires to foster practical responses to social ills closely related to women and raises awareness of how these issues affect society's functions through her traveling art exhibitions. As a social activist, her desire to see a changed narrative propels her to capture moments and inspiring women that reflect the change she wants to see. Her recent works highlight the importance of representing African women on banknotes and coins. She studies and sheds light on various untold stories of women who have contributed to our economic, political, and social climate, disrupting the norm through her artistic expression. In November 2022, Kganya Mogashoa graduated as a debut catalyst under Business & Arts South Africa, selected among top 25 artists across South Africa from 450 participants. She was chosen along with three other artists for the South African State Theatre Incubator Programme for the year 2022/2023. Her exhibition, "Sheroes Rands Herstory," was held at the South African State Theatre Opera Marble Foyer from 1 – 31 March 2023 during International Women's Month, highlighting African sheroes stories from South Africa and the USA. Her recent art exhibition at the South African State Theatre included the presence of Sophia Williams De Bruyn which she chose to celebrate as part of her women on banknotes series. She values celebrating women heroes with her art while they are still alive. She also invited Dr Mpho Phalatse as part of the panel discussion she hosted to highlight the value and importance of the role of women in the economic and political climate. She intends to restore the image of African women in a dignified manner through visual art.
She has the folloeing work experience.
– (June 2015) Turnkey Interiors. Occupation: Intern
– (2016 – 2017) The Fun Company Greenstone. Occupation: Casual-cashier
– (2017) Design Dreams International. Occupation: Junior Interior Designer (Client Service)
– (June 2018 – Dec 2019) Adina Bregman Architects / Energy House Designs). Occupation: Interior Designer
– (2020 – Present) Koranges Art (pty) Ltd. Founder and Director (Full time self-employed Visual Artist)
She has received the following honours and awards;
– (November 2022) Business & Arts South Africa graduate certificate, Issued by Ashraf
Johaardien & Mr Moleleki Ledimo
– (June 2022) British Council – Introduction to African Creative Economy certificate offered by Creative Economy eLearning Platform, Issued by Brenda Fashugba
– (November 2021) Business & Arts South Africa graduate certificate, Issued by Ashraf
Johaardien & Boitumelo 'Tumy' Motsoatsoe
– (August 2021) ACT (Arts & Culture Trust) Building Blocks Programme graduate certificate,
Issued by Marcus Desando
– (October 2020) Joburg Recognition of Contribution Certificate, Issued by Douglas Cohen
– (March 2012) Certificate of Merit for achieving the highest mark in Visual Art (Lyttelton
Manor High School), Issued by Principal Mrs Malherbe
Kganya Mogashoa's has done numerous publications, auctions and group publications and projects within and outside South Africa.
Kganya Mogashoa's visual art career picked up momentum when she started painting live on stage during worship nights at a her church in 2018 which a big audience witnessed for the first time. She continues to paint live at EveryNation Rosebank Church to date to share artworks that reflect hopeful and encouraging messages.
Kganya Mogashoa values the importance of building sustainable and practical solutions to the development of women in the economic, political and social climate. She has created solo art exhibitions since 2022 to highlight the importance of representing African women on our currency. Her solo exhibitions have been held at the South African State Theatre from 2022 – 2023 and have been documented by ENCA and Morning Live on SABC to highlight African banknoteworthy women that she painted.
Kganya's creative ability was noticed for the first time at the age of 5 in 1999. Her report card read, "Kganya loves painting." She has a vision to cultivate financially lucrative solutions for visual artists in South Africa by setting up art exhibitions and collaborations which foster a changed narrative to bridge the gap between Creative and Corporate South Africa. Her next show will host Dr Lidia Varbanova, an internationally recognized consultant, educator, coach and researcher in the field of strategy, policy, management and entrepreneurship, with a special focus on arts, culture and creative industries. In most cases, the arts and culture sector worldwide receive a small portion of the national budgets, and this is a worldwide well spread case. This requires the overwhelming majority of the population in the arts to be aware of external fundraising and financing from alternative sources, understanding the basics of entrepreneurship in the arts and the economy and developing knowledge on how to save and invest. Kganya's direction involves building sustainability in the visual art sector by encouraging potential investors and political leaders to participate in her art exhibitions to develop the creative sector in participating in the advancement of our economic and political activity.