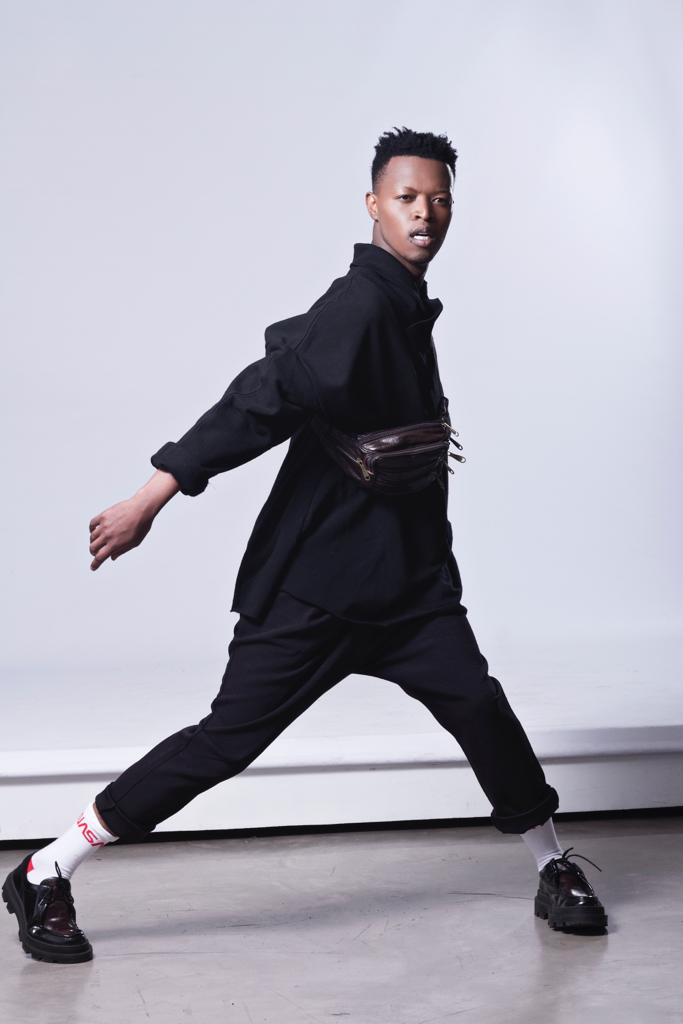 Paul Modjadji is a multi-award winning South African artist, social entrepreneur, and activist who uses film, theatre, writing and dance to tell stories. Modjadji has worked as a theatre, television, and film storyteller for nearly two decades. In 2015 Modjadji choreographed Africa's first made-for-cinema dance film "Hear Me Move". He then produced and directed a 14-part documentary series, "Breaking Down Borders Africa". He has directed several documentaries, public service projects, and live events including the IBSA summit in India, The SA year in China closing ceremony in Beijing, The Namibian Annual Music awards, and the MTV Africa Music Awards to mention a few.
In 2021, Modjadji wrote, produced and directed his first narrative short film, "The Deal".
As a writer, Modjadji has authored two book projects and contributed to a range of publications across Africa. As a theatre-maker, Modjadji wrote, choreographed, and directed "Rorisang and Julie", a stage musical adaptation of Shakespeare's Romeo and Juliet. He also produced and choreographed "Mmaweee!!", a theatre production that highlighted the plight of child molestation and mutilation in South Africa.
A two-time world dance champion, Modjadji made history as the first African to win the Dance Star World Masters championships in solo adult Jazz.
He was a Mandela Washington fellow under President Barack Obama's flagship programme Young African Leaders Initiative, and was recently inducted as an Atlantic Fellow after graduating as a brain health fellow with the Global Brain Health Institute.
He has been listed on the "200 Young South Africans You Need to Know" by the Mail & Guardian newspaper, and recognized among "40 Influential Men Under 40" by Destiny magazine. In a storied career, he has won numerous awards including the Global Young Leaders Award, the South African Youth Award from NYDA, and the National Heritage Golden Shield Youth Advocacy Award from The National Heritage Council.
An alumni of New York Film Academy, Modjadji is affiliated with academic institutions including the Edna Manley College of the Visual and Performing Arts in Kingston, Jamaica, where he was a guest lecturer, Tulane University (Academic fellow), USA, Trinity College Dublin (Junior researcher) and Tshwane University of Technology (Alumni and advisory board member).
Mr Modjadji is the founder of the Leaders Who Dare To Dream Foundation, through which he runs community-based art classes and advocates for artistic education. He is also the founder of the Breaking Down Borders Africa Initiative, which brings together young African leaders from a broad cross-section of different backgrounds biannually.
Modjadji's accomplishments are inspiring due to the intersectionality between his art and activism, both of which he has successfully managed to execute and carry out at local and global levels. Google Modjadji any day and what you will find is a string of interviews and articles that speak to Modjadji's impact in his country, the continent and the world.
In a country with a high prevalence of gender based violence and child molestations, Modjadji has responded through various projects such as the Mmmawee!!! stage production that sought to highlight the plight of child molestation victims in South Africa. This was followed by the Hear Me Move anti-GBV schools tour that saw Modjadji and his team take the GBV awareness show to schools across South Africa to teach students at a critical stage in their development about gender based violence. Modjadji's latest award winning film "The Deal" further explores this thematic area. Modjadji has devised a film that helps us understand the often blurred lines between consent and coercion, while touching on brain health and access to basic human rights. The Deal, which has been selected for screening at the American premium festival of culture Essence Festival 2023 and the Chate Wole Festival in Ghana, has been celebrated for being South Africa's first film to feature a character living with dementia. Modjadji has recently been awarded a grant to develop his next film by the Alzheimer's Society in the United States.
A Pan-Africanist who often writes and speaks about the need for Africa to unite, Modjadji's response to South Africa's episodic bouts of Xenophobic attacks was to launch the Breaking Down Borders Africa Initiative with two goals. The first being to convene young African Leaders across social, economic, and public sectors from African nations in one country for the week long Breaking Down Borders Africa Conference that aims to build networks, collaborations, and forge partnerships towards building the united Africa we all want. Since its inception, the Conference has been able to convene young leaders from more than 40 countries. The second goal of the BDB initiative is to use the power of filmmaking to highlight the work and innovations of young Africans across the continent.
To this end, the 14 part 'Breaking Down Borders Africa' documentary series is planned for release this year. For their work in building bridges of peace and unity the UNAO awarded the BDB initiative with a grant to develop two toolkits, one on "Xenophobia" and another on "Racial injustice". The toolkits were launched in 2022 and are set to be publicly distributed through a roadshow in the latter part of 2023.
On using his pen for activism Modjadji served as a columnist for Africa Independent magazine where he wrote on Africa and her youth for two years. Some of his other pieces have appeared on various publications such as City Press, Sunday World, Drum Magazine, Dance USA magazine, and Pretoria News. Modjadji's second publishing book deal is with Hodder Non-fiction division, and is already on the UK's best-selling presale list, with a 7 September 2023 release date.
Modjadji's work is often hard to define in one sentence, as it straddles from conference convener, to community development agent who was recognised with the coveted Inyathelo philanthropy award for his community based arts schools, to his history making art as a two-time dance champion and for choreographing the continent's first made for cinema film. He is a young social entrepreneur with distinct impact and a knack for business whose work has been acknowledged by presidents and institutions.
Paul's work, be it in the community at large, in the arts industry or his activism is always founded in collaboration and adopting a "lift as you rise" approach. As a dancer and choreographer, Paul prioritises creating employment for his fellow collaborators. When appointed as a producer and director, Paul has created various employment opportunities for hundreds of performers throughout his career both locally and internationally. In his role as creative director and choreographer of award and stage shows such as the MTV Africa Music awards, the Namibian Annual Music awards and the South African sport awards, to international events such as the IBSA summit in India in 2007 and the South African year in China closing ceremony in 2015, he has afforded many performers a platform to showcase their art and earn an income.
After winning his first international world champion title Modjadji chose to return to his hometown of Hammanskraal to launch an arts school and later his foundation The Leaders Who Dare to Dream foundation, as a vehicle to give back and afford the next generation of artists opportunities, which they may have missed. The foundation has been offering free performance art classes in Hammanskraal since 2011 and today boasts an alumnus of beneficiaries who are performing on global stages in countries like Germany, the UK and Japan. In his prime, when he could have chosen to seek a residency in the global community, Modjadji chose to return home to plough back and contribute to establishing a ladder that would see many young talented artists step up to reach their full potential.
Finally, Modjadji, who was already recognised as a Global Young Leader by the Global Young Leaders Congress as a teenager, would in 2015 return from President Barack Obama's Mandela Washington Fellowship programme inspired to carry the baton forward of solidifying young Africans across the continent. It was Modjadji's passion for fostering peace and playing a small part in engaging dialogue around unifying the continent that saw him spearhead the Breaking Down Borders Africa Initiative. Through this initiative, he toured over 12 African states to make connections with other young activists and leaders on the ground as part of a documentary series and foundational steps towards the launch of the Breaking Down Borders Africa Summit.
Modjadji currently sits on the external advisory board for Tshwane University of Technology Dance and Musical theatre department, Nkathuto Trust, and has served as a judge for Brand South Africa's Play Your Part Awards, NYDA's South African Youth Awards, The Dance World Masters, as well as appointed as resident judge for the television show Dance Africa Dance on Zee World. He is active in contributing both his knowledge and time to the broader community and institutions that align with his passion for community upliftment and youth development.
Mr Modjadjji has managed to combine all his passions and build a sustainable and impactful career. He has merged his love for performance and passion for social change to craft platforms such as the Breaking Down Borders Africa, which enables him to drive youth collaboration, storytelling and highlighting the need for improvement and unifying the continent. In this platform, he has also empowered other young entrepreneurs whose small businesses were afforded an opportunity to build their portfolio of work while making a profit. These businesses include catering services, communication services, digital services and others. He also went further to ensure that as he took his seat to judge an international dance competition, he included a participant from the continent, one who was selected through his cultural exchange tour of the continent. He is currently expanding his offering to the world through film making and even here he is still focused on highlighting issues of marginalisation and disenfranchisement, particularly of women and other minorities. Despite his level of success and international platform, he remains firmly rooted in the continent, carrying the continent with him everywhere he goes and remains committed to uplifting young people and their stories from Africa. His range of skills and services are pointed at one goal – being a prolific storyteller of African stories that shift thinking and impact lives.