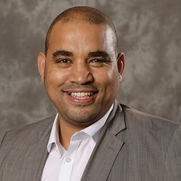 Acting Mayor of Cape Town City of Cape Town
Ald Eddie Andrews has been serving the residence of the City of Cape Town for the past 13 years as a politician. He is currently the Executive Deputy Mayor and Mayoral Committee Member for Spatial Planning and Environment. The City of Cape Town is positioning itself as a City of Hope for its residents and visitors.

Ald Eddie Andrews' role at the Indaba is to welcome the delegates to the City of Cape Town. A City that is working hard to grow its economy through its implementation of its 7 Mayoral pledges.