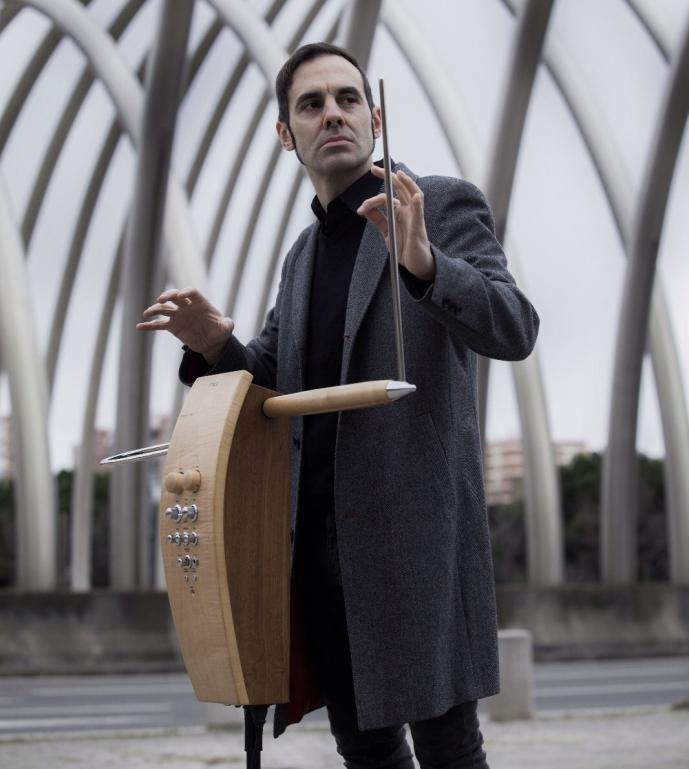 Javier Díez-Ena (Zaragoza, 1974) is a double bass player, thereminist and electronic musician. He is a member of the groups Dead Capo, Ginferno and Forastero and former member of Insecto and the bands playing with Ainara LeGardon (2006-2009) and Aaron Thomas (2007-2011). He has collaborated in the studio and/or live with a variety of artists and groups: Standstill, Damo Suzuki (Can), Javier Corcobado, Víctor Coyote, Julio de la Rosa, Javier Colis, Toundra, Bruno Galindo, Los Caballos de Düsseldorf, Hyperpotamus, Eh!, Susana Cáncer, Clint, Strand and many others. He has performed in hundreds of venues and festivals across the world and been a session musician on more than 30 records.
Javier Díez-Ena has given various workshops and talks about the theremin. MediaLab (2007), Encuentros Klabbing (2008), Red Bull Music Academy (2012), TED Madrid (2013), Fundación Telefónica (2016), Centro Cultural de España in Mexico (2018) and La Casa Tomada in El Salvador (2018).
In 2009 he won the electronic music category of the Premio Audiciones, awarded by the Fundación Canal in Madrid.
His journalistic work includes an ongoing regular feature since 2009 on the radio programme Carne Cruda (Radio 3, Cadena SER, Diario.es) and his collaborations with Rockdelux.
In 2017 he released Theremonial (Ale Hop! / Beat Generation Records), a kaleidoscopic album on which the theremin fulfils all instrumental roles, including percussion, bass, melody, harmony and others.