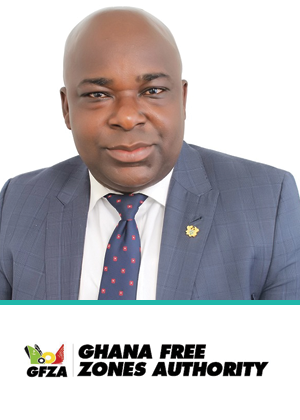 Michael Okyere Baafi, the Chief Executive Officer of Ghana Free Zones Authority (GFZA) holds a B.Ed in Psychology and an MBA in Marketing and Corporate Strategy from University of Cape Coast (UCC) and Kwame Nkrumah University of Science & Technology (KNUST). He is also at the final stages of completing an MSc degree in Risk Management and Consulting.
Michael Okyere Baafi has 15 years working experience in Strategic Marketing, Corporate Decision Making, and Customer Relationship Management at various levels. He has a massive transaction and engagement skills which come on the back of professional competence and results oriented attitude. Michael is a passionate and aggressive marketer with in-depth knowledge in
managing people, consumer marketing, small and medium enterprises marketing and retail marketing. As a dynamic and proactive professional, he rose from a marketing officer to an
Area Manager within 5 years at Donewell Insurance. Michael is a selfless, compassionate, and exceptionally smart and demonstrates high leadership qualities. To equip himself with modern trends and make him a consummate professional, Michael undertook workshops and seminars in various disciplines in Marketing and Sales, Claims Handling and Small Business Management Skills, Innovation and Leadership. He became the Chief Marketing Officer of Phoenix Insurance Ltd. From 2010 – 2016. He is a member of the Chartered Institute of Marketing, CIM (UK) and a part- time marketing lecturer at African University College of Communication and BlueCrest University College, all in Ghana. He was the Chairman of the Finance Committee of the National Youth Wing from 2014 to 2018. He is also a Board Member of the Ghana National Service Scheme, (NSS). Michael was a member of the Manifesto Sub-Committee on Trade and Industries and was also a member of the Trade and Industry sub-committee of the 2017 Presidential Transition team in Ghana that successfully guided a seamless and smooth transfer of power from an outgoing government to an in- coming government.