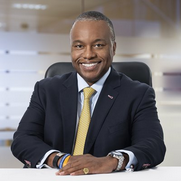 CEO – Bulks Anglo American
Themba was appointed CEO of Bulk Commodities in January 2022. Prior to that, he was CEO of Kumba Iron Ore from 2016 to 2021, and CEO for Anglo American's Thermal Coal business in South Africa, having joined the Group in 2014.

Themba has extensive experience in the resources industry, including 18 years in his native South Africa, as well as in the US and Australia. Before joining the Group, Themba was managing director for Huntsman Tioxide in South Africa until 2007 when he was appointed COO of Richards Bay Minerals, a joint venture between Rio Tinto and BHP. In 2011, he was seconded to Rio Tinto's Australian coal business, before taking up the role of regional general manager for the Americas in 2012.

Themba is a Vice President of the Minerals Council of South Africa.