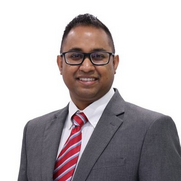 ESG Director Grant Thornton
Yugen Pillay is currently the lead Partner / director in business consulting at SNG Grant Thornton. He has over 23 years business improvement experience which includes ESG implementation, governance and strategy enhancements, process improvement, transformation implementation and management of risk.

Yugen is an United Nations accredited Trainer for the SDG Impact Standards ( Only 19 globally) , As well as International Sustainable Business (ISB) Certified and has many other international ESG qualifications.

Yugen is also and is also a business coach whom has assisted over 1500 Entrepreneurs, he was featured in the Forbes Africa magazine May – June 2021 edition as well as the June – July 2022 edition)

Yugen's experience ranges from public and private sector both on a national and international level. Key clients include Air Liquide, Anglo American Platinum, Tiger brands, BMW, Total SA, Pick and Pay, ABSA, Telkom, Sasol, Royal Bafokeng Nation, BCX, South African Breweries (InBev), Various municipalities as well as Governmental departments including working with ministers and the presidency.

Yugen also heads up the ESG and Energy and Natural Resources Industry at SNG Grant Thornton.