Hon. Tumiso MacDonald Rakgare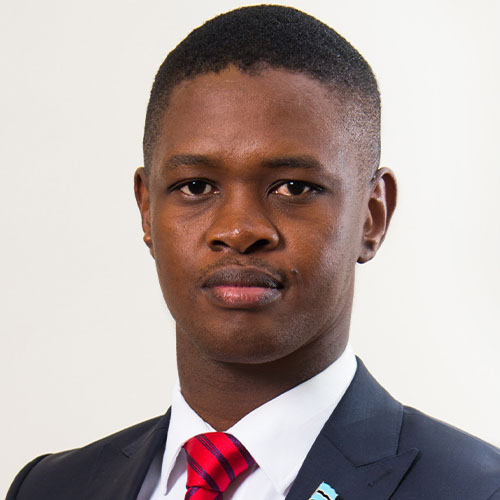 Tumiso MacDonald Rakgare was born 39 years ago at Scottish Livingstone in Molepolole. He grew up in Mogoditshane where he did both primary and secondary studies, at Mogoditshane Primary and Mogoditshane Junior Secondary School respectively before transferring to Tlogatloga Junior Secondary School where he completed junior certificate. He then proceeded to Ledumang Senior Secondary to do BGCSE before enrolling at the University of Botswana to study for a Bachelor of Business Administration (General Management).
He has successfully completed an Executive Masters Degree in Entrepreneurship at the University of Botswana.
Hon. Rakgare is a passionate footballer & table tennis player with good playing record in both sporting codes. He played for Notwane FC juniors for 5 years, joined Black Peril FC in the National First Division League before retiring to focus on academic commitments.
He is also the Former Secretary General of Media Social Club (MSC). A social club of both practicing and retired media practitioners in Botswana.
POLITICS
Currently Member of Parliament for Mogoditshane Constituency and appointed as the Honourable Minister of Youth, Gender, Sport and Culture.
He was the Botswana Congress Party Youth League President from 2015 and 2017.
He served in the Botswana Democratic Party (BDP) Youth Wing (NYEC) between 2010 and 2012.
He was appointed the first Student Peer Ambassador for Sports and Culture at the University of Botswana in 2010.
He was elected President of the Student Representative Council (SRC) at the University of Botswana in 2009.
WORK EXPERIENCE
Administration, Marketing and Communications Executive at ILES, an education wing of BOPEU – May 2017 to December 2018.
He won a record 15 Media awards during his 11 year service as a Sports Reporter.
On air Sports Consultant – Yarona FM- January – December 2015
Head of Sports- Duma FM – December 2010 to January 2014
Sports Presenter at GBC (now EBotswana) from 2011 to 2012
Sports Presenter at Yarona FM – November 2004 to November 2010
Sports Analyst – Botswana Television (BTV), 2005 to 2007
Sales and Marketing representative at SBM Pipes in 2005
COMMUNITY SERVICE
He Co-founded the Annual Thamaga Christmas Football Tournament, it was founded in 2006 and is still running.
Worked with various NGO's in Mogoditshane to mobilize resources to help the under privileged.
Assisted all schools in Mogoditshane (3 primaries, 2 juniors and 1 senior school) during their Prize Giving ceremonies with Prizes for best students both academics and sports.
He is an avid participant of the popular annual Matlolapata games both as a player and volunteer.