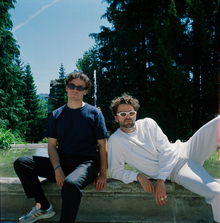 The Duo Okvsho is one of the most promising prospects of upcoming musicians from Zurich, Switzerland. With the release of their "Traphouse Jazz EP" via Boyoom Connective in 2018, Okvsho gained the attention of a wider audience for the first time through placements in Bandcamp Weekly, NTS Radio and many more. Their music is mostly inspired by the upcoming, young and vibrant UK Jazz Scene and their origins in beatmaking and house/electronic music.
The two brothers (22,24) who form Okvsho started out their musical careers at a very young age in Brazilian percussion groups and, due to their Hungarian roots, they are also familiar with traditional Balkan music. This background came to light on their 2020 released debut album "Kamala's Danz", in which they wanted to let their original musical backgrounds flow in and discover new ones at the same time. Especially through Placements of two Singles in the very popular Spotify Jazz Playlist "State of Jazz" Okvsho became one of the most interesting names in the modern Jazz-Scene.
This year, Okvsho released the "Orange Wine EP" via the legendary French label HipDozer. The brothers wanted to get back to their roots and combine the simplicity of beat making with the playful and improvised jazz elements the duo is known for. On the Orange Wine EP, Okvsho limited themselves to a few instruments and percussive elements with which they composed seven groovy and smooth songs and once again expanded their musical horizons.
Through playing with with local jazz-musicians their live-band project emerged, which celebrates improvisation, spontanity and jazz as dance music. Their Live-shows are characterized by driving rhythms and should make the listener feel like moving and immersing into a world without time and beyond their own.