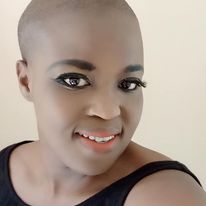 Cece Celestina is an artist, culture activist and theatre practitioner based in Johannesburg. Her career in the arts began at the age of 5, when she appeared weekly in the Sunday school church plays and sang with the children's choir, a fact meticulously documented in her self-published autobiography; 20 YEARS IN SUNDAY SCHOOL In 2022, she founded EMASIKWENI ARTS AND CULTURE which is an organization concerned with the protection and promotion of indigenous cultures of south Africa. To that end, the organization teaches indigenous performing arts to teens and youths from low-income families around the city. These young people are then absorbed into the organization and get opportunities to perform at events. In this way, they get an opportunity to sharpen their performing skills and get work opportunities which help them to earn an income and alleviate poverty and unemployment among the youths.
The various artforms she teaches are the intuitive indigenous dance, Playing indigenous musical instruments, interactive theatre and drama, Choreo-poetry, indigenous storytelling and Acappella. She has founded ensembles based on the above which is the Emasikweni Intuitive dance group, Emasikweni Uhadi and Marimba, Emasikweni Theatre group, the Choreo-poetry group and Joburg East Acapella.
Celestina studied Festival Management with the FESTIVAL ACADEMY in Nicosia, Cyprus. Upon return to S.A she founded and successfully hosted the first ever INDIGENOUS ARTS FEST-JHB held in Kensington in December 2022. She also studied outdoor and alternative theatre in Normandy, France with the KAIMERA LAB. She is now scheduled to facilitate the outdoor theatre for young audiences' workshop o behalf of ASSITEJ South Africa, as part of their upcoming CRADLE OF CREATIVITY FESTIVAL. She has facilitated other arts and culture workshops in multiple disciplines. She currently runs weekly theatre and drama workshops at Makers Valley in Victoria Yards, Johannesburg. She also goes to schools and social organizations where she facilitates workshops on poetry, writing, indigenous musical instruments, theatre and drama. She has worked with organizations such as Timbuktu, Safe Study Center, Boys and Girls' Club Betrams, and Blue culture, just to name a few.
Her international achievement includes being engaged by the Teatro Budva Company to be their Festival manager for the 2023 edition in Montenegro, Europe. This festival started 40 years ago a d celestina I the first black, First African and First Female to ever hold the title. She has also been invited as a research fellow by the Giortes Rokkas Festival in Greece.
Her most recent local achievement includes writing and directing the famed theatre play; I WILL NOT LET YOUR LANGUAGE EAT MINE which is about the event that took place on July 16, 1976 in SOWETO and gave rise to what is now known as the youth day in South Africa. This play his part of the NATIONAL ARTS FESTIVAL fringe, 2023.
Professor Brett Pypper from Wits University had this to say;
Cece Celestina was always clear on her purpose: to build on her experience as an
indigenous traditional African music and dance performer, cultural activist and
communications professional to launch an innovative showcase of indigenous
traditional music and dance. she has honed
her curatorial concept and business plan and can now draw on the international
network she has established to gather both ideas and resources.
Portfolio – Cece Celestina